On the Living Edge Handbook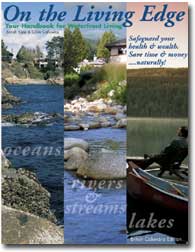 On the Living Edge: Your Handbook for Waterfront Living . Written by and for waterfront residents, this user-friendly handbook provides the practical information you need to enjoy and protect your natural surroundings and investments. You can download sections of this guide below:
Preface, Foreward, Table of Contents
Section 1: Saving Time and Money
Section 2: Working With Your Land
Section 3: Day to Day Living
Section 4: Help and Resources
Appendix 1: Contacts and Resources
Appendix 2: Native Plant Species
Appendix 3: Shoreline Purchaser List
Before you buy a shoreline property, ask the seller these questions.
Appendix 4: How Healthy is My Shoreline?
Take this shoreline health quiz.
Special Insert: Action Checklist
Consult your Shoreline Action Checklist to protect your shoreline.
The Homesite Assessment Program
For Shoreline Residents…
If you live by a creek, river, lake, wetland or the ocean, a visit from a Living by Water trained Homesite Assessor can help you protect your shoreline property. Learn about:
preventing or dealing with shoreline erosion
maintaining a healthy septic system
restoring shorelines using native plants
shoreline-friendly tips for your house and yard
How does the program work?
A trained assessor will visit your home and provide customized tips and recommendations that will save you time and money while maintaining a healthy environment.
During a personal 1½ to 2 hour visit, a Living by Water representative will identify simple tasks that will help maintain a healthy shoreline. Even the smallest home and yard changes can make a big difference along your waterfront and possibly save you money. You might also benefit from better water quality and an increase in property value.
To view the Table of Contents click here or to request a shoreline home visit, contact your provincial Living by Water Partner.
The Workshop-in-a-Box Program
For Shoreline Residents…
If you're a shoreline resident and are interested in finding out about upcoming workshops in your community, search the listings in News and Events. To contact local groups in your area, go to the Contact Us page.
By attending a workshop modeled after our Workshop-in-a-Box Program, you'll learn:
How to protect water quality and prevent erosion with a buffer strip of shoreline plants
Tips on native plants and shoreline landscaping
Ideas for handling shoreline erosion challenges
How to properly maintain your septic system
Tips on building and maintaining your dock
Helpful contacts in your area
If you know of a group that might be interested in using our Workshop-in-a-Box Program, ask them to get in touch with the Living by Water Project regional office for your area.
For groups and agencies…
Are you working with a group? This Program is designed to provide your group with the materials and resources you need to deliver a professional presentation about shorelines - without having to do all of the research and a lot of preparation work beforehand.
Workshop-in-a-Box is a portable tool kit that helps your group conduct an interactive workshop that meets the needs of permanent and seasonal shoreline residents in your community. You can promote action and positive behavior change that will benefit shoreline residents - saving them time and money, protecting property values, protecting water quality and shorelines! The Program is a unique educational tool that can be used to deliver information on a peer-to-peer basis. Use it to build capacity, empower and mobilize your local group.
Cottage associations, ratepayer, stewardship and conservation groups can make use of the kit. Hosting a shoreline resident workshop in your community can strengthen and unite your group.
In designing your workshop, you can choose which topics you would like to cover and how much detail you would like to devote to each topic.
Main topics (modules) include:
Healthy shorelines
Native plants and shoreline landscaping
Shoreline erosion and bioengineering
Septic systems
Preventing water pollution
Walks and docks
Other topics may be introduced in the future; we welcome additional ideas. You can add your own topics to the local workshop.
The Box contains the following services and support materials:
The Workshop-in-a-Box Manual, includes information and advice on using local case study sites for hands-on experiences and how to organize and promote your workshop from start to finish.
Slide presentation and overheads; and an optional PowerPoint
presentation
Facilitator's notes
A supporting video
Supporting resource books
A collection of brochures, extension notes, and other resource documents related to each module
Other Living By Water Project handouts
The document entitled: Community Environmental Projects: From Needs Assessment to Evaluation.
On the Living Edge: Your handbook for Waterfront Living (available soon in your region)
Leading edge conservation marketing assistance
Networking service to connect you with individuals and other groups